QUARTARARO SPEEDS TO SUPERB SECOND PLACE IN COTA RACE
Monster Energy Yamaha MotoGP's Fabio Quartararo delivered a mature ride in today's Grand Prix of The Americas. The championship leader balanced on a fine line between defending second place and chasing the race leader. He extended his margin in the standings to 52 points in the process.
Quartararo had a great start from second on the grid and slotted into second place through the first corners. He was leading the pack chasing Marc Marquez. The Frenchman wouldn't let the race leader out of his grasp in the opening laps, keeping the gap under 0.5s at all times. However, at the start of lap 6 Jorge Martin put pressure on the Yamaha man. El Diablo held firm but lost crucial time.
For a couple of laps the number-20 rider couldn't relax for a moment, trying to reel in Marquez once more and defending second place at the same time, but in the end he managed to break away from Martin. The resulting bit of breathing space allowed him to focus on his rhythm and he speeded to the chequered flag to take second place, 4.679s from first.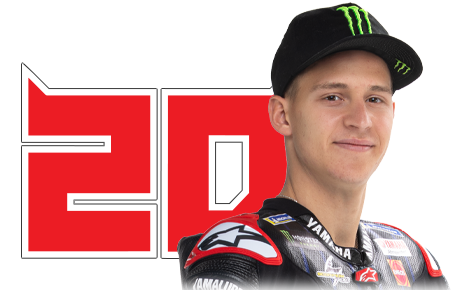 You can imagine how happy I am! I think that we managed to do a really great job. This morning I tried the soft rear, and honestly that was not really a race option for us all weekend, but I felt good. The first 12 laps of the race were the toughest, when I tried to make a gap between me and Jorge. And we did it. This is the best second place that I've ever gotten in my life. It's even better than a victory, to be honest, because I'm getting closer to my dream. It was so emotional because there are only three races left, and I have an over 50-point advantage. At least we made this long flight to leave here with a great result. I will now go back home and relax with my family for a few days. I will enjoy those moments with them a lot. I think that we are starting to think in a different way now, because the championship's end is getting closer. This is my first time really talking about it, but things are looking good.