Fabio QUARTARARO takes the win at British MotoGP
Monster Energy Yamaha MotoGP's Fabio Quartararo gave a masterclass at the Monster Energy British Grand Prix today. An impeccable race from start to finish earned him his fifth victory of the season and eighth podium. Cal Crutchlow rode a steady race. Starting from 19th, he crossed the finish line in 17th place.
Quartararo started from third position on the grid and slotted into second after the first corner. He had to relinquish two positions on the back straight before Turn 7, but it wasn't for long. With 18 laps to go he overtook Francesco Bagnaia and had to close a small gap to the front duo. He managed it in no time. A lap later El Diablo took over second place from Aleix Espargaró and went on to set a provisional 2'00.485s fastest lap of the race on lap 4. He then swiftly moved past Pol Espargaró in Turn 12 on the next lap.
With clear space ahead of him, the Frenchman was off. Another 2'00.098s fastest lap of the race on lap 6 gave him an advantage of 1.320s, which sealed the deal. The rest of the race was a lonely ride and thus a real test of concentration, but the Yamaha man did a perfect job, steadily extending his lead to nearly 4 seconds. He managed the gap beautifully and took the win with a 2.663s advantage.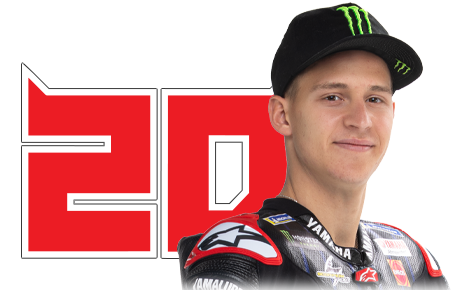 This win felt great! In Austria I was thinking of the championship when we were switching bikes, but here I thought of nothing. I was feeling great on the bike, and I enjoyed fighting for the victory. It was perfect. I enjoy racing like that, living in the moment. I felt great at the start and stayed calm. I only made a few mistakes, and I felt like I was really good on braking. It was better than expected, and because of that I had kind of a change in strategy during the race. When I had a 3s lead I said, 'Okay, now it's time to go slowly and not make any mistakes', and then on the last lap I was just enjoying the track, still riding slowly. I'm so happy about this result. It's a really special win. When I won in Assen, I already had some fans there. I don't know how many fans there were here today, but it was massive, and it was great to share this moment with them. I want to thank them. For a Monster Energy Yamaha MotoGP rider, it's always nice to win a Monster Energy Grand Prix, so I basically got it all, it's amazing! It's a great win for them, and also for my family and the team. I have a mechanic who couldn't come here, Daniele Grelli, so this one is for him. I can't wait to be with the crew to celebrate.