SOLID ECE 22-05
Motifs et couleurs
Graphic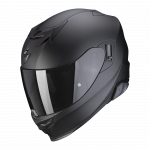 SOLID ECE 22-05
Color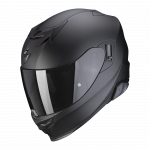 SMART
Fruit du travail conjoint des experts Scorpion et uClear, l'EXO-COM est l'intercom idéal pour vos casques Scorpion. Léger, discret et facile à installer, il s'intègre parfaitement dans votre EXO-520 AIR ou votre EXO-930. Ces deux casques existent sous forme de pack SMART sur lesquels l'EXO-COM est déjà préinstallé. 15 heures d'automonie et une portée allant jusqu'à 800m !
La technologie Bluetooth 5.0 vous permet de connecter plusieurs appareils à la fois (téléphone, GPS, lecteur mp3…) tandis que le réseau de communication maillé évolutif DynaMESH offre la possibilité de discuter avec un groupe de 4 motards sans être interrompu par le départ (ou le retour) de l'un d'entre eux : fini les arrêts pour reparamétrer les intercoms, un apairement en une pression suffit pour l'ensemble de votre sortie ! Concentrez-vous sur la route et sur votre conduite ! Chez Scorpion, nous pensons que l'intercom est un accessoire facilitant et fluidifiant votre expérience de conduite.
Fini les grésillements et les dialogues inaudibles, dites bonjour au son HD dans votre casque ! Les écouteurs boost 2.0 sont équipés d'un égaliseur, d'un booster de basses et d'une balance réglable facilement via l'application dédiée Scorpion. Le système de double micro breveté par uClear et la réduction du bruit permettent à l'intercom de transmettre uniquement votre voix en filtrant les nuisances sonores tel que le vent.
Enjoy your ride with music ! Multitasking audio technology enable you to listen to your music and to share it with your mates while adjusting the volume to the vocal chat and with your GPS instructions.
High quality product, the EXO-COM is a waterproof IPX5 certified device and its warranty last for 2 years. Discrete, it only weights 78g for 80x35x15mm dimensions.