A PERFECTLY TAILORED INTERCOM FOR YOUR SCORPION HELMET.
Up to 13h ride and 800m range !
Connect several devices thank you Bluetooth 5.0 technology and enjoy fluid conversation with DynaMESH connection : say goodbye to disconnection issues whenever a rider leave and enjoy pairing with your friend in a single touch !
Stay focused on driving ! At Scorpion we believe that an intercom is an accessory that should make your driving experience easy and smooth :
No more crackling and inaudible dialogue, welcome HD speakers in your helmet ! Boost 2.0 speakers are equipped with an equalizer, a bass booster and a balance to adjust the sound easily via the dedicated Scorpion smartphone application both available on iOS and Android. Moreover, uClear patented dual microphone and noise reudction system will filter wind and parasite noises to transmit your voice only.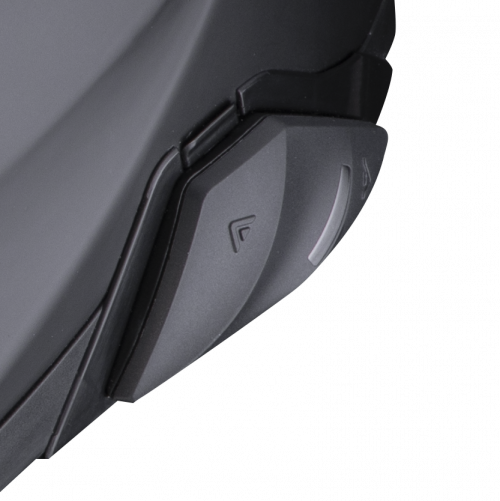 Enjoy your ride with music ! Multitasking audio technology enable you to listen to your music and to share it with your mates while adjusting the volume to the vocal chat and with your GPS instructions.
High quality product, the EXO-COM is a waterproof IPX5 certified device and its warranty last for 2 years. Discrete, it only weights 78g for 80x35x15mm dimensions.

DYNAMESH
Connect with up to 4 riders free to leave or join the group without disconnecting the rest of your group.

HIGH COMMUNICATION RANGE
Benefit from a range up to 800 m between each rider.

AUTONOMY
Up to 13 h autonomy for 2h30 to 3h30 full charging time.

QUICK ACCESS TO GOOGLE® AND SIRI® VOICE COMMAND
Multilingual voice prompt ("Music played", "Music paused"…)

BLUETOOTH 5.0
Connect several devices at the same time thanks to BLUETOOTH 5.0 technology

HIGH QUALITY SOUND (IN AND OUT)
Boost 2.0 Speakers with BassBoost and Equalizer.
Dual microphone and noise reduction technology from Uclear.

AUDIO MULTITASKING
Listen to your favorite music while speaking with your friends
and following GPS instructions.

LIGHT AND DISCRETE
80x35x15mm for 78g only.

WATERPROOF
Don't fear the rain thanks to IPX5 waterproof certification.

RELIABLE
Benefit from a 2 year warranty.